What are rituals?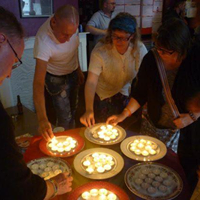 Well, they are things that we do on a regular basis that add
a special meaning to the normal event or action.
They can turn ordinary and practical events into ones with a special
meaning. By doing the ritual deep emotions can be stirred in us.
This adds depth and meaning to the often simple, act itself.
Most of you will have your own personal and family rituals which you carry out regularly, even daily.
For example, you might wear a 'lucky charm' – a favourite item of jewellery given to you by someone you love that invokes special feelings in you. You might read a bedtime story to your children every night at the same time and with the same 'bedtime ritual'
How do rituals help us as adults?
We are creatures of habit and any kind of change can be naturally stressful. Even simple rituals are very effective in helping us to cope with changes.
Rituals performed after experiencing losses, like lighting a candle every morning in remembrance, can reduce anxiety and feelings of grief.
Very often sports people have a ritual that they always go through before an event. This helps them to calm their mind and keep them focused on the task ahead.
So, rituals give a sense of order to the changes of life and help to induce a state of calm. This creates a safe place for us to experience our complicated feelings, whether they are happy or sad.
Can I have rituals in my Wedding Ceremony?
These days many people are not religious and therefore religious rituals do not have the same appeal. But you can create enjoyable new traditions and symbolic rituals with the help of your Celebrant. Celebrants help you to create wonderful ceremonies with meaningful rituals which are often a modern version of age-old customs. Sharing these rituals in ceremonies with your family members and friends as you celebrate life's milestones creates more meaning and stronger community and family bonds.
Popular rituals to include in a Wedding Ceremony are:
Handfasting, Wine Ceremony, Candle Ceremony, Jumping the Broom, Sand Ceremony, Absent Family tribute.
If you and your partner are from different Nationalities or Religious backgrounds and want to include elements of your religion or your culture in your Wedding Ceremony a Celebrant crafted ceremony is just perfect for you. Nothing is out of bounds!
There are no Rules!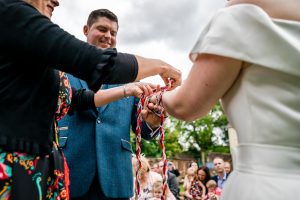 For more information contact me on 07528637825